Today we are adding a new Moving Average Backtest to our modeling capabilities.  This is a simplified form that allows you to test single or dual moving averages applied to a symbol or to the ratio of one symbol to another.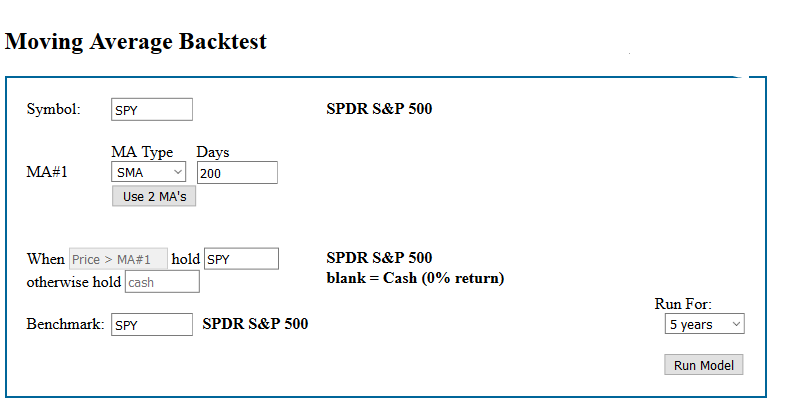 The screen above represents a backtest of SPY, entering when the Price rises above the 200-day Simple Moving Average and exiting when Price drops below the SMA.  Options include the type of moving average to use (SMA or EMA), the length of the moving average, and what symbols to enter/exit when signals are generated.
The screen below demonstrates many of the options available with this screen.  Here we are basing our moving averages on the ratio of high beta stocks to low beta stocks by referencing the two funds PowerShares S&P 500 High Beta ETF (SPHB) and PowerShares S&P 500 Low Volatility ETF (SPLV).  It is generally held that when high beta stocks are leading, the market is bullish and when low beta are leading, a more conservative approach is in order.  In this model we will compare the 5-day SMA to the 100-day, moving into equal weight S&P(RSP) when the 5-day leads and into Utilities (XLU) when the 5-day lags.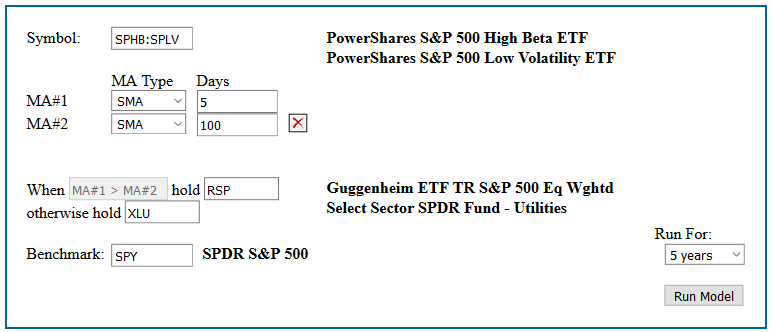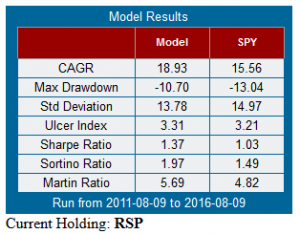 The results for this screen show an improvement in CAGR as well as most risk metrics when compared to SPY.  If one can handle a little more risk, the results get quite interesting when using a leveraged fund like UPRO in the bullish state and maybe SPLV in the bearish state.
Three interactive charts are included with the standard output for each model.  The first is a price and moving average chart followed by an equity chart and finally a percentage drawdown chart.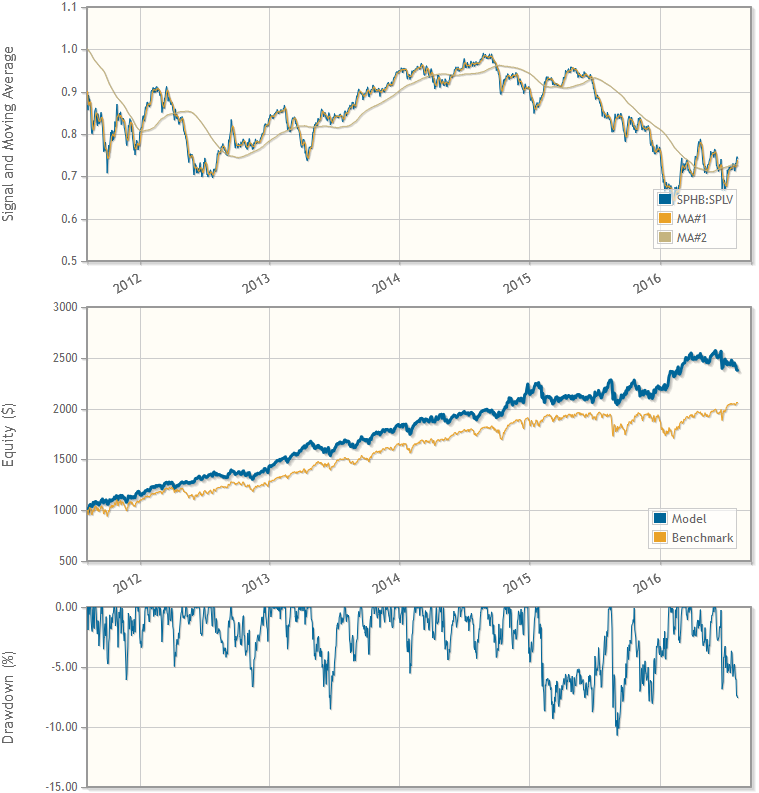 At this point this page is available to all users, Premium Access or not.  However, we have seen a continued increase in the number of visitors utilizing ad blocking software so with the roll-out of this page we are including a small "reminder screen" that will appear to users not viewing ads and not logged in as Premium Access.   All we ask is that you either allow ads or sign up for our Premium Access.  On our part, we will do our best to deliver only responsible ads that have a minimal impact on your browsing.  If any of you receive this screen in error please let us know, and we will make refinements.
We have identified several possible extensions to this basic functionality including more statistics to guide you to better screen development.  Some of these extensions will be Premium Access, but we are happy to offer this screen to our users initially without restrictions.
Enjoy!