It is now much easier to save your favorite screens so you can return to them tomorrow, next week, or next month, with just a few mouse clicks. All you do is click the "Flag Screen as a Favorite" link at the top right of any screen page.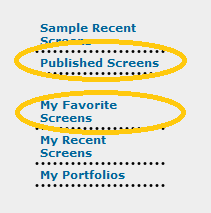 Of course, you must be logged in so the site knows whose favorite it is – but you all knew that. You then give your screen a name and click OK. From then on, your favorite screen is available from the My Pages link on the top navigation bar and is also flagged for easy recognition on the My Recent Screens page and the Published Screens page – if it is a Published Screen? What's a Published Screen? More on that later so keep reading.
Our system is set up where you have a screen definition and optionally may have multiple backtests run against that screen. Once you name a Favorite Screen, that name applies to the screen and all related backtests. You have the option to flag the screen (current picks) as the favorite or one or more backtests. I've found it more useful to flag the backtest that I want to follow than to flag the Current Screen Picks, but your usage and experience may differ.
So what about those Published Screens? Published Screens are a great way for you to share some of your favorite screens with other users. This site is all about filtering down the universe of ETFs to the few we think are investment worthy. We all try various screen definitions to see how they have performed. Many of us duplicating efforts with one another. By publishing a screen you think has potential you present it to the group and open it up to critique. Users can rate your screen with a star rating system and can enter into a discussion about your screen. Hopefully such will lead to even better screens. Published Screens let us leverage the combined knowledge of our user base.
I've released this capability with a couple of basic screens published. My hopes are that you will check out what has been published, rate them, comment on them, and publish some screens of your own.
And to tie this all together, you can always flag a Published Screen as a Favorite so you can easily find it later.
p.s. In a related move, the Screener now supports symbol lists without the need to create a portfolio. That makes life easier.
Go to the Screener and get publishing!