As the year comes to an end it's a good time to look back and evaluate the performance of various groups of funds. We'll start with the top 10 performing funds (active and non-leveraged) of the year. As you can see from this table, 2011 belonged to the bond funds. The only equity funds on the list are pharmaceutical funds at positions 7 and 10, and one look at their 1 year charts is enough to give you a good case of heartburn.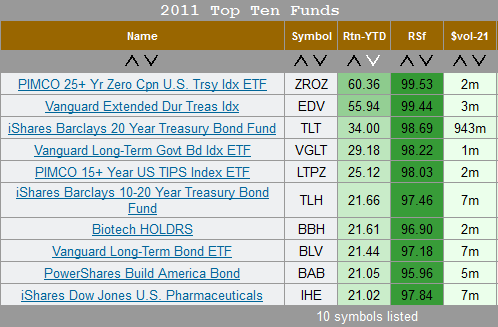 From there lets take a look at equity funds around the world to see just how bad the stock markets performed this year.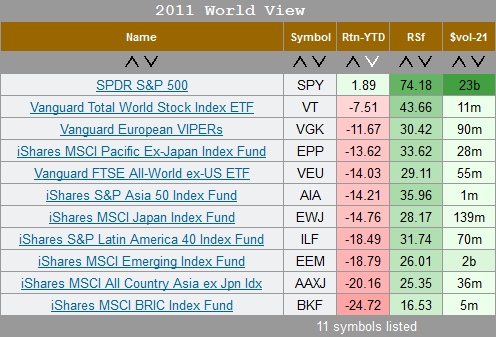 Considering how the market felt in the U.S., I would not have wanted to be in one of the BRIC countries this year. Clearly, the emerging markets got hammered.
Coming back home, let's take a look at the U.S. market sectors through the Select Sector Funds.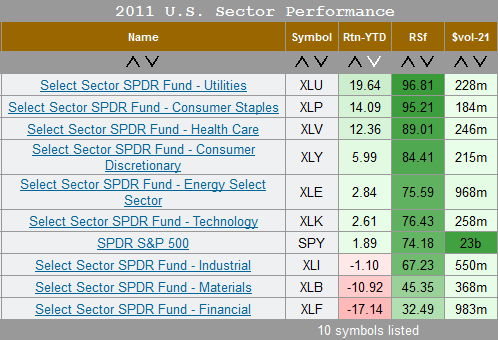 The only surprise on this table is the number of sectors in the green for the year. Of course the performers are utilities, consumer staples, and health-care. But that's not a surprise given the year.
That reminds me of the last post on this blog prior to today, when on May 16th I commented about the then-current market leadership. By the way, the simple indicator I posted about then has been bearish since that date. It's been close to switching a time or two, but not yet. No guarantees made then, and none now. But it does pay to pay attention to market leadership.
What are your thoughts for 2012?